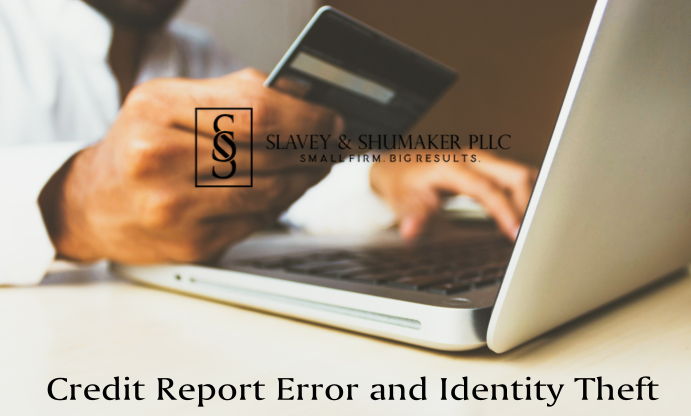 Morgantown Credit Report Error and Identity Theft Lawyers
The Morgantown Credit Report Error and Identity Theft Lawyers at Slavey & Shumaker PLLC are known for aggressive and diligent litigation in West Virginia credit reporting error cases. If you have an error on your credit or are the victim of identity theft, contact Slavey & Shumaker PLLC for a free consultation with our Morgantown Credit Report attorneys.
Did you know that one in every five Americans has a mistake on their credit report?
While you may be wondering how this could happen to you, credit report errors are very common, and can be extremely harmful and damaging, not only to your reputation, but can also make your life extremely difficult.
Credit report errors can keep you from getting a loan or credit, prevent you from getting housing, a vehicle, and raise red flags for employers, preventing you from getting a job.
If you have been the victim of a credit report error or identity theft in the state of West Virginia, you should know that you may have legal options. Our Morgantown credit report error and identity theft Lawyers at Slavey & Shumaker PLLC can assist you getting your credit corrected and taken back control of your affairs. First, let's learn about the types of credit report errors.
5 Most Common Types of Credit Report Errors
Identity Theft – Victims of identity theft often discover accounts opened in their name that they do not recognize or recall opening. It is extremely important to check your credit report each year to ensure all of the accounts listed are ones that you have personally opened.
Clerical Errors – These are very common errors that can greatly impact your credit score. Always double check that the details of the accounts on your credit reports are accurate and that all loan and credit types listed are labeled correctly.
Outdated information – The various credit reporting agencies pull your personal information from a number different databases. The three big credit bureaus, Experian, TransUnion, and Equifax, each use their own databases that are updated at different times.
Mistaken or merged accounts – In some instances, your account information may be mixed up with someone else's information. This type of error is usually due to that other person having the same or similar name, address, or other biographical information as you. Make sure that all of the accounts listed on your credit report are your accounts and do not belong to someone else.
Background Check Errors and Employment Report Errors – Mistakes on these reports are generally due to issues with merged or mixed up information, outdated information, or clerical issues as we discussed above. Errors on background checks and employment reports can be some of the most damaging, especially when it prevents you from gaining employment or causes you to be terminated from a job, resulting in lost wages.
Who Is Liable For The Errors On My Credit Report?
In many cases, an institution may be liable for credit report errors if their process of investigating a credit dispute regarding the information they have included in your credit report (or failing to do so) caused or contributed to damages suffered by you. This may include situations where inaccurate or false information is able to continue to be reported because an organization does not investigate an obvious error.
In stolen identity cases, parties other than the identity thief could be liable for credit problems. A business, landlord, or other entity could be held responsible if oversight in their information security measures (such as poor investigations) contributed to a credit or employment damages case. In cases involving someone with a history of poor investigations and security measures, that entity may be liable for punitive damages.
West Virginia's Best Credit Report Error and Identity Theft Lawyers
The Morgantown Credit Report Error and Identity Theft Lawyers at Slavey & Shumaker PLLC handle credit report cases on a contingency fee basis, which means you pay us nothing unless we get money for you. Our attorneys will work to get you the compensation and peace of mind you deserve. For more information or for a free, no-obligation case consultation, contact ustoday.